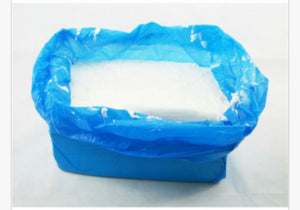 12.5 KG Fondant Block
12.5 KG Fondant Block 
100% Bakers fondant consisting of Sugar, Glucose Syrup and Water. 
Ideal for use during autumn and winter to prepare your bees for cold or rainy weather, for artificial swarming, splitting colonies and stimulating activity and egg laying during early spring.
Long shelf life can last up to one year when adequately wrapped, stored in a cool, dry place and kept away from mice.
Also available in smaller quantities of either 1lb or 1kg,
PLEASE NOTE DUE TO THE HIGH DEMAND FOR THIS PRODUCT, WE HAVE LIMITED STOCK, THEREFORE THERE IS A LIMIT OF 2 PER ORDER